Baja Weather Links
Extended Forecasts: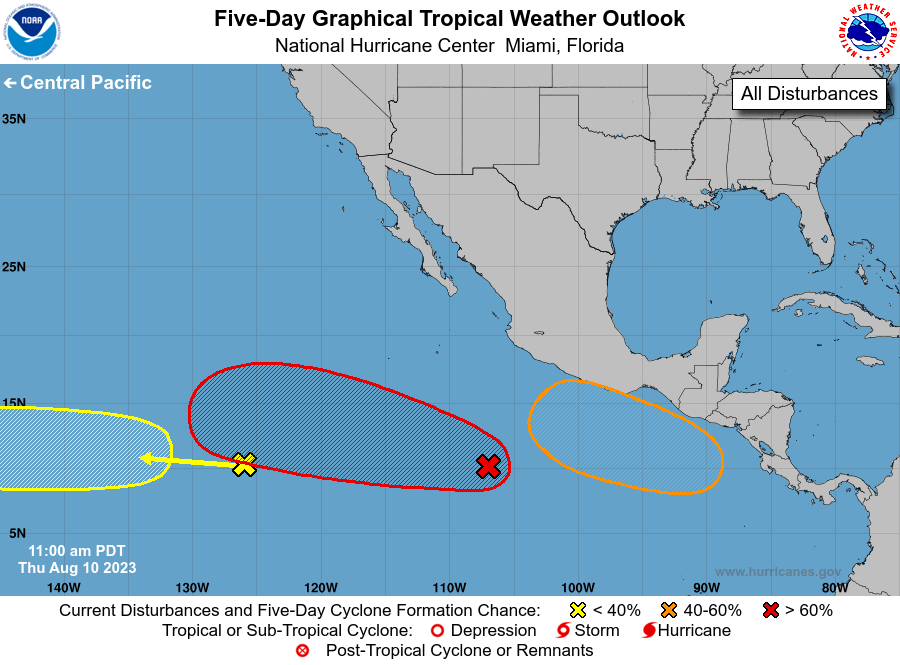 Tropical Weather Outlook
NWS National Hurricane Center Miami FL
500 AM PDT Sun Oct 2 2022
For the eastern North Pacific…east of 140 degrees west longitude:
Active Systems:
The National Hurricane Center is issuing advisories on Hurricane Orlene, located about 100 miles southwest of Cabo Corrientes, Mexico.
1. South-Southwest of the Baja California Peninsula: Showers and thunderstorms associated with a broad area of low pressure located several hundred miles south-southwest of the southern tip of the Baja California peninsula continue to show signs of gradual organization. Additional development of this system is possible, and a tropical depression could form during the next couple of days as it moves slowly northeastward or northward.
* Formation chance through 48 hours…medium…50 percent.
* Formation chance through 5 days…medium…50 percent.
Hurricane Orlene Discussion Number 16
NWS National Hurricane Center Miami FL EP162022
900 AM MDT Sun Oct 02 2022
The satellite presentation of Orlene has degraded since early this morning. It appears that an increase in southwestern shear may have begun, as the eye has become cloud filled. Subjective satellite classifications from TAFB and SAB were T5.5 (102 kt), and objective estimates range from 112 to 120 kt. Based on the degraded satellite presentation, the initial intensity has been reduced to 110 kt. An Air Force Reserve reconnaissance aircraft is currently en route to investigate the hurricane, and should provide additional information on the strength and size of the wind field early this afternoon.
Orlene has likely peaked in intensity. Although the sea surface temperatures remain warm along the forecast track, increasing southwesterly vertical wind shear during the next 24 to 36 hours is likely to cause the small hurricane to weaken. However, Orlene is forecast to pass near or over the Islas Marias as a strong hurricane late tonight or early Monday, and reach the coast of mainland Mexico has a hurricane by late Monday or Monday night. After landfall, rapid weakening is expected and the low-level center should dissipate over the mountainous terrain of southwestern Mexico in 60-72 hours.
Orlene has continued to move just east of due north or 005/7 kt. The hurricane is being steered between a mid-level ridge to its east and a broad trough over northwestern Mexico. These steering currents should cause Orlene to bend north-northeastward later today and it should then continue on that general heading until landfall in southwestern Mexico. The latest NHC track forecast is slightly west of the previous advisory, and lies close to a blend of the GFS and ECMWF models (GFEX). This is a little to the right of the other simple and corrected consensus models. The GFS remains significantly farther right and faster than the remainder of the guidance.
Key Messages:
1. Hurricane conditions are expected in the Islas Marias tonight, with tropical storm conditions beginning today. A Hurricane Warning is in effect for a portion of west-central mainland Mexico, where hurricane conditions are expected on Monday with tropical storm conditions beginning early Monday. Preparations to protect life and property should be rushed to completion.
2. Heavy rainfall from Orlene is expected to lead to flash flooding, as well as possible landslides in areas of rugged terrain of southwestern Mexico into Tuesday.
FORECAST POSITIONS AND MAX WINDS
INIT 02/1500Z 19.6N 106.9W 110 KT 125 MPH
12H 03/0000Z 20.6N 106.7W 100 KT 115 MPH
24H 03/1200Z 21.7N 106.4W 85 KT 100 MPH
36H 04/0000Z 22.6N 106.0W 70 KT 80 MPH
48H 04/1200Z 23.3N 105.7W 45 KT 50 MPH…INLAND
60H 05/0000Z 23.9N 105.4W 30 KT 35 MPH…INLAND
72H 05/1200Z…DISSIPATED
Atmospheric Pressure Changes
Sea Surface Temperatures (SST's)
Offshore Waters Forecast (E Pacific Offshore of Mexico)
Hurricane Orlene near 19.0N 106.8W 949 mb at 2 AM PDT moving N at 6 kt. Maximum sustained winds 115 kt gusts 130 kt. Orlene will move to 19.7N 106.6W this afternoon, 20.9N 106.3W Mon morning, 22.0N 106.0W Mon afternoon, then move inland to 22.8N 105.7W Tue morning.
Otherwise, fresh to strong winds in the Tehuantepec region will continue through Tue then diminish to moderate to fresh speeds Tue night into Thu.